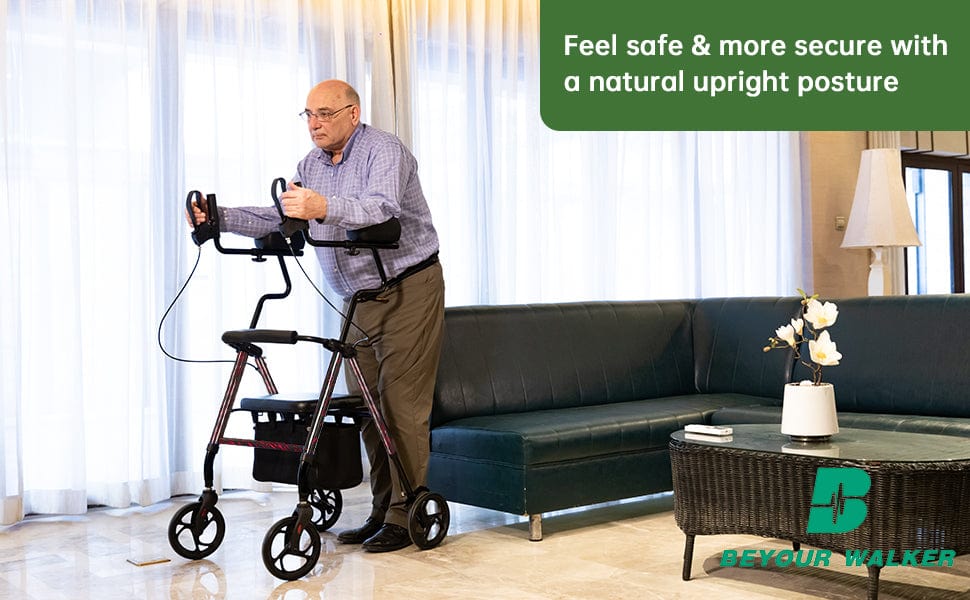 Specifications

Recommended Height

Overall Dimensions: 29"(L)x25"(W)x39"-45"(H)

Seat Dimensions: 19"(L)x14"(D)x21"-24"(H, from ground)

Adjustable Armrest Height: 39"-45"

Wheels Size: 8" Front and Rear

Unit Weight: 22 lbs

Weight Capacity: 300 lbs

Features

Wide Padded Seat and Backrest

Sponge filler & PU surface, softer than mesh seat. Ideal cushion for sitting.

Cane/umbrella Holder

Leaves your hands free, focus on maneuvering, enjoy it.

Dual handbrake system

Squeeze the handbrake to slow, push forward to lock the rear wheel for safety.

The Foot Lift

Stepping the padel, lift the front of walker, easy to go across the threshold, prevent from tipping over.

Tube Adjustment

The armrest and seat has several levels heights adjustments and the handgrip length also can be adjusted, set your desired height to have more natural posture.

Under-seat Storage Basket

Big enough, make it easier to carry household items.